Kampa Touring Air VW Drive Away Awning (RH)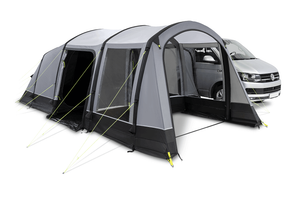 Kampa Touring Air VW Drive Away Awning (RH)
Add to my wishlist
Regular price £699.99 Sale
Kampa Touring Air VW Drive Away Awning (RH) 2021 - Fits campervans, VW T6, T5, T4, BONGOS and more. If you have any questions regarding fitting please give us a call or email.
Chasing the sun...
Designed to sit alongside your camper van, the Kampa Touring AIR provides the maximum amount of space without extending beyond your pitch. Inside you'll find a spacious living area, full-height windows, plenty of mesh ventilation and a large four berth inner tent, all supplied as standard. Available in a left-hand (L/H) and right-hand (R/H) configuration.

Space for the whole family
Generous dimensions provide ample internal space. Crystal clear windows, spacious bedrooms and comfortable living areas maximise the liveable space of your pitch and help you make the most of your holiday.
Height: 210cm
Width: 320cm
Depth: 540cm
Pack size: 85 x 46 x 43cm
Weight: 26.64kg
Material: Weathershield 68D
Suitable for campervans with a rail height of 180 to 210cm
Standard 210cm Bedrooms
Secondary mesh on Front door
One Tunnel Door - allows access into the van without going through the awning
High-Vis guy-points around the tent and additional storm straps can be purchased (x2 packs recommended)
Toggle inner divider - Offers greater privacy between inner bedrooms. Roll away when not required
Toggled privacy curtains - Simple and quick to use, with two varying levels of opening.
'Sleeptite inner tents' - Darker fabric reduces the amount of early morning light
Inflatable Frame structure - Allows pole free pitching, ensuring your tent is erect within a matter of minutes.
All flysheet and groundsheet seams are factory taped - Provides watertight seal
Kampa's Weathershield 68D - highly waterproof, durable and reliable fabric that will keep you dry and comfortable
Fully Sewn-in Groundsheet - adds to the comfort of your tent by providing a bug and draught free environment.
Waterproof PE groundsheet
Open Front Canopy - the ideal amount of shelter for cooking under or storing stuff.
Part mesh inner door - Allows ventilation, whilst keeping bugs out
Covered entrance - gives a sheltered entrance to your tent, which prevents rain from dripping into the living area
Bedroom pockets - conveniently positioned pockets for storing your essentials
Diamond Clear windows - Maximise light and visibility
High ventilation - Combine to create a comfortable flow of air through the tent, reducing condensation
Easypack holdall bag - Durable to take the effort out of packing your tent away
Sleep-Tite
Dark materials are used in inner tents to help block-out early sunlight and allow a good night's sleep.

SabreLink Flex
An exciting new accessory for your tent, this lighting system allows you to link-up three SabreLink lights, each with a remote control that allows on / off / dimmer functions. Attach by velcro onto the AirPoles on Kampa's Pro tents. Also suitable for other tents using the supplied fittings.

CLIMATE CONTROL
Helps regulate interior temperature using a series of high and low-level vents. Good ventilation helps prevent condensation and improves comfort.

QUICK PITCH
A time-saving Kampa innovation that means no more messing around with guy lines and heavy-duty straps. Replaces them with unique twists that can be pegged out taut in seconds, with easy adjustment of top straps to apply tension.

Cable Entry Points
For added convenience, all Kampa tents have low-level cable entry points for 12V and mains cable access.

Airframe 2 Year Warranty Charcoal
2-YEAR WARRANTY
Kampa AirFrame awnings come with an extended 2-Year Warranty so that you can buy Kampa products with confidence.